Exploring the Heart of Innovation: Our Visit to Pompco Facilities
Have you ever wondered what goes on behind the scenes of a company known for its excellence in pump technology and solutions? We recently had the privilege of stepping into the world of Pompco, a leading name in the industry, and it was nothing short of enlightening. As proud distributors of Pompco's innovative pump solutions through Industrial Pump Repair Canda (IPRC), we embarked on a journey to discover the heartbeat of their operations. 
We were warmly welcomed at Pompco's state-of-the-art facilities and taken through the entire process, from design, building, testing to the finished products. It was an eye-opening experience to witness the meticulous care that goes into every centrifugal, piston, and submersible pump they produce.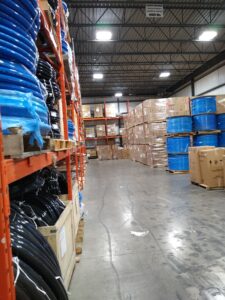 The highlight of our visit was the opportunity to engage with Pompco's team of experts. We had in-depth discussions about their pump product range, the latest technological advancements, and the future of the pump industry. Their commitment to innovation was evident, and we were excited to learn about the latest developments in the field. 
Pompco's dedication to quality and performance was thoroughly demonstrated during our tour. We saw firsthand how rigorous quality control measures are integrated into every step of the manufacturing process for their centrifugal, piston, and submersible pumps. It's no wonder their products have such a stellar reputation. 
We are excited to continue our journey as distributors of their high-quality products and to share our newfound knowledge and insights with our customers. Pompco's dedication to excellence and innovation aligns perfectly with our mission at IPRC, ensuring a promising future in the world of pump solutions.