SANDPIPER 1-1/2" (40 MM) S15 Air Operated Dual Diaphragm Pump
Newly rebuild SANDPIPER 1½" (40 MM) S15 air operated dual diaphragm pump. Aluminium body provides superior suction lift of greater than 22 ft (6.7 m).

Designed for outstanding operation, this versatile and mobile pump is perfect for OEM applications.

Equipped to handle abrasive fluids and suspended solids, it gives exceptional performance in harsh chemical applications where reliability is critical.

For more information please check the data sheet here.

Chemical Compatibility Chart
Aro Stainless Steel Diaphragm Pump
With Shock Absorber on the Cart
Aro Diaphragm Pump With Shock Absorber on the Cart
Designed for general fluid transfer
Industrial and chemical applications
Material: Stainless Steel
Size: 2″ with the reducer 1″ 
 REBUILT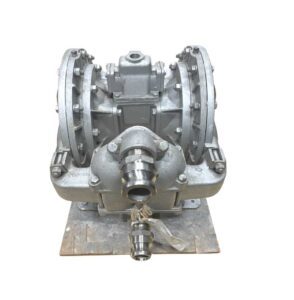 Sandpiper Stainless Steel Diaphragm Pump
Sandpiper Diaphragm Pump SGN-2-S
Air operated Double Diaphragm Pump
Model ST 1-1/2-A
Material: stainless steel / epdm /aluminum
Type SGN-2-S